Real Estate in Qualicum Beach, Parksville, and Nanoose Bay
Anchor Realty
113 West 2nd Avenue
Qualicum Beach, BC Canada
(250) 951-4882
Contact Tom Whitfield, REALTOR®
My Phone Numbers & Office Address
Phone:
(250) 951-4882
Fax:
(250) 752-3649
Evening Pager:
1-800-668-3622 (after 7:00 PM)
Email:
homes@tomwhitfield.ca
Office Address:
113 West 2nd Avenue
Qualicum Beach, BC
V9K 1T5, Canada
Contact by Email
Use this form to send your email message directly to homes@tomwhitfield.ca.
Office Location
RE/MAX Anchor Realty
113 West 2nd Avenue
Qualicum Beach, B.C.
V9K 1T5
(250) 951-4882
1-800-668-3622 (after 7:00 PM)
print this map



Double-click the map
image below to load an
interactive Google Map.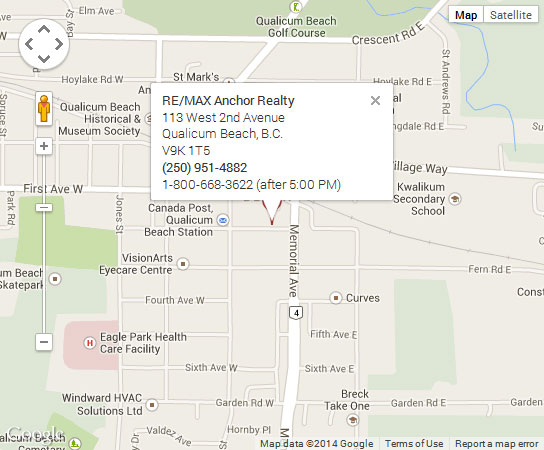 More Information
Browse My Real Estate Listings
To help you find the perfect new home, below are some links to additional listings pages for specific communities and for specific types of property.
Call Tom at (250) 951-4882 for additional information about any of the property listings.
Browse by Community
To see my real estate property listings for sale located in a particular community, click on one of these links:
Browse by Property Style
To see my real estate property listings of a particular style, click on one of these links:
Top of page
Tom's Media Appearances
Listings by Community
Featured Listing
Video Tours
Search by Price
Listings by Type
Tom's Picks
$1,500,000 - 2,483 sqft • 3 bdrm
Qualicum Beach
$1,195,000 - 4,330 sqft • 5 bdrm
Qualicum Beach
$649,700 - 3,080 sqft • 4 bdrm
Nanoose Bay
Community Info
Community Resources
Community Videos



Videos
Testimonials
Green Homes

Weather

Tools
Resources
Video
Active Living