The Town is a destination retirement community and an impressive array of talented individuals call Qualicum Beach home. Having the oldest population in Canada on a per capita basis, means that 47% of the local population of 9,200 is over the age of 65 in 2012. Let's not forget too that 53% are under that age as well.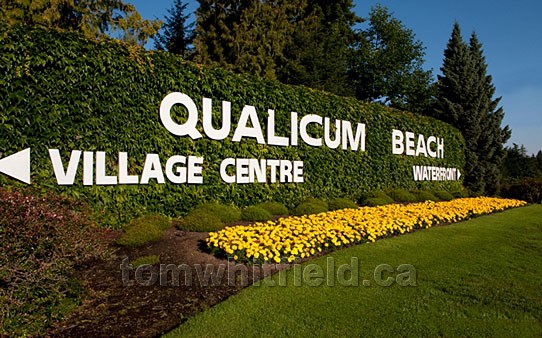 Welcome To Qualicum Beach. The large sign points the way to the Village Centre and the waterfront.
Qualicum Beach in bloom. The top of the Town Hall building can be seen upper right in the background.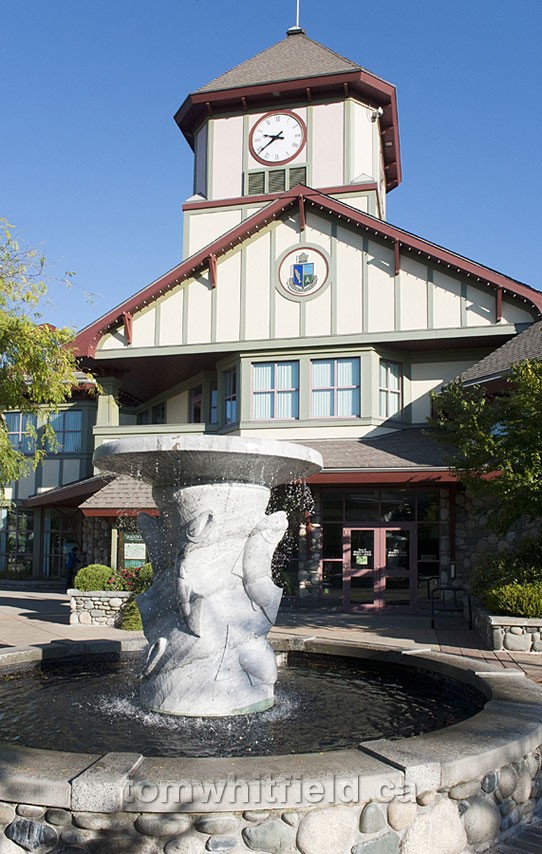 A decorative water fountain graces the front of the Qualicum Beach Town Hall and Library buildings.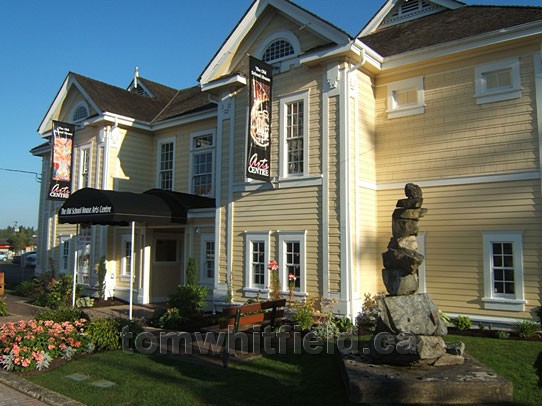 The Qualicum Beach, B.C. Old School House Arts Center celebrated its 100th Anniversary in 2012.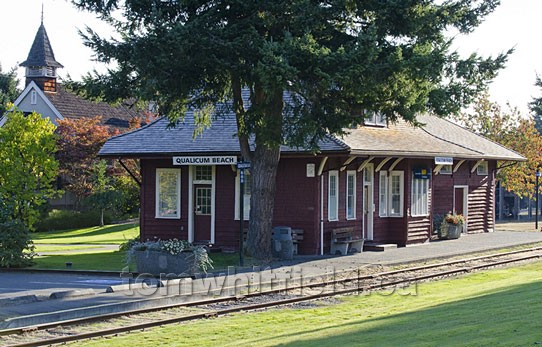 The Qualicum Beach Historic Train Station.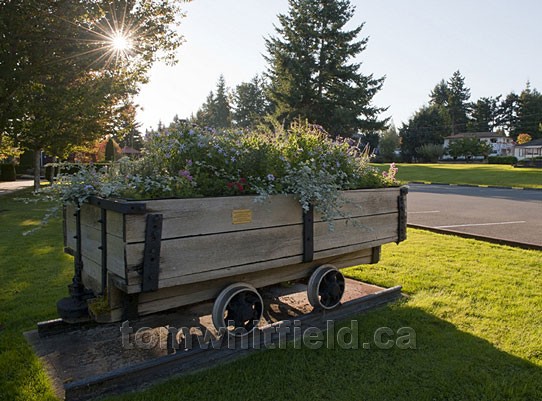 A hand cart from another time sits outside the Qualicum Beach Historic Train Station.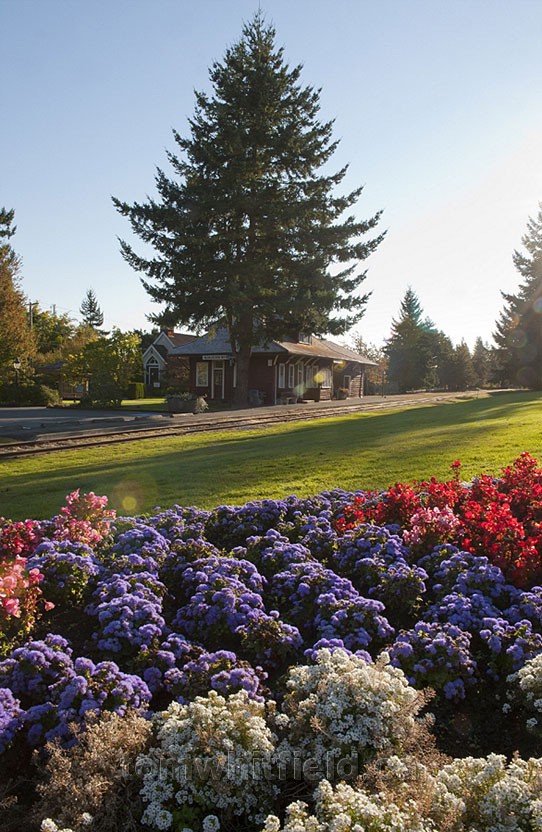 One of the many picturesque Qualicum Beach gardens throughout town. The Historic Train Station can be seen in the background.
The Village center has guidelines for new construction which have resulted in an attractive European style. There is live theatre year round and a variety of enjoyable venues offered in summer, including a Farmer's market that keeps getting better each year.
The boulevard entrance to the Town of Qualicum Beach.
A row of young Oak trees lines this Qualicum Beach boulevard.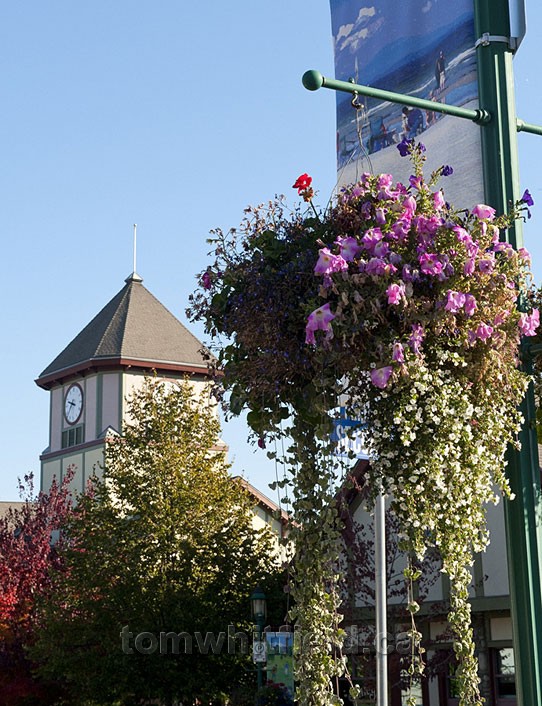 Qualicum Beach features a very well-cared for village centre.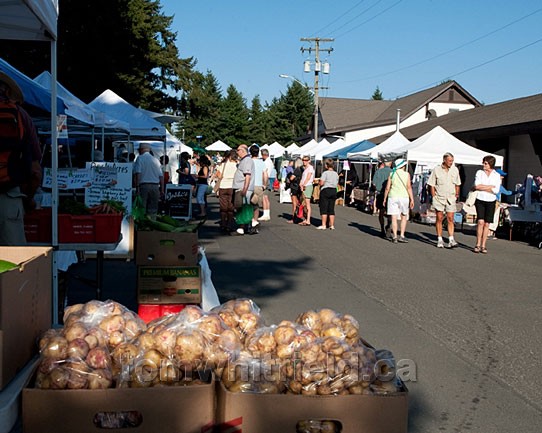 Qualicum Beach Farmer's Market on Saturday morning.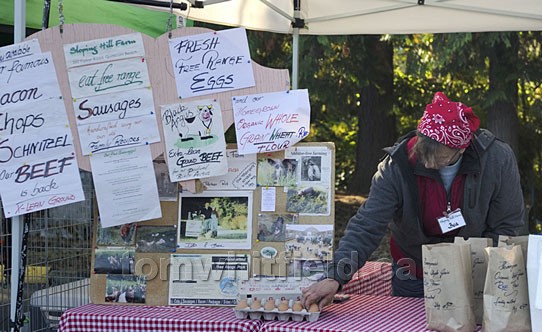 Fresh groceries on display at a local market in Qualicum Beach.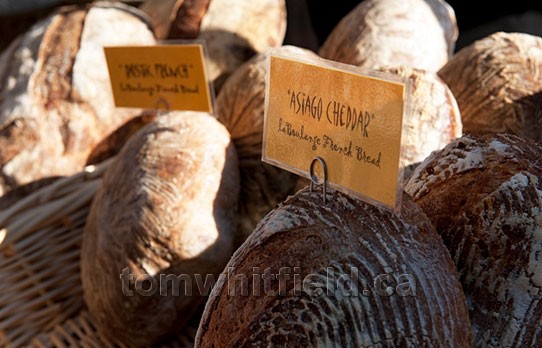 A loaf of Asiago Cheddar French Bread sits at the front of a variety of breads available from a Qualicum Beach market shop.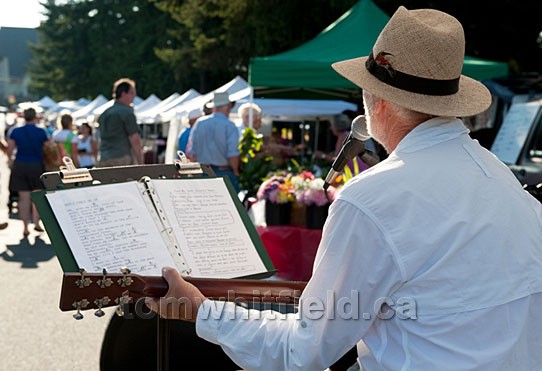 Artisans and Musicians are often seen at the Qualicum Beach Farmer's Market.
Qualicum Beach welcomes you.
Current plans are to further densify the Village centre and to make it even more pedestrian friendly.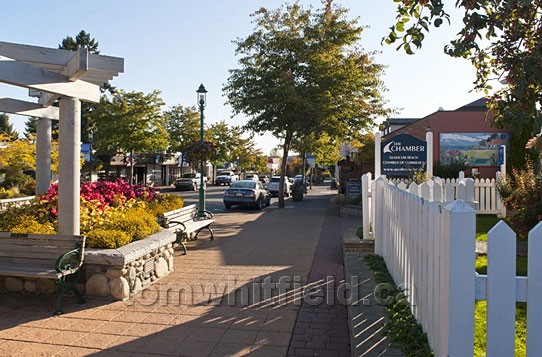 Qualicum Beach Village Centre sidewalk and shops.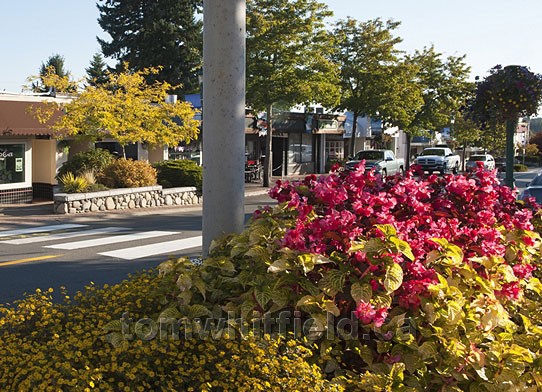 Flowers are blooming in downtown Qualicum Beach.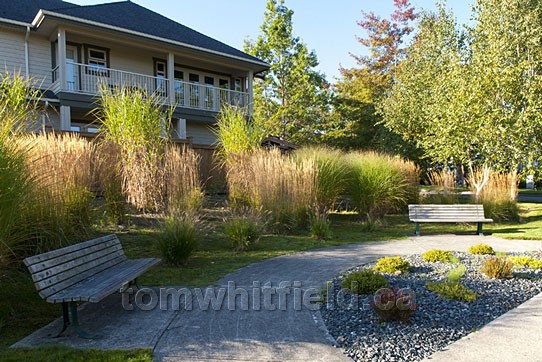 Qualicum Beach features many walking-friendly pathways with rest benches along the way.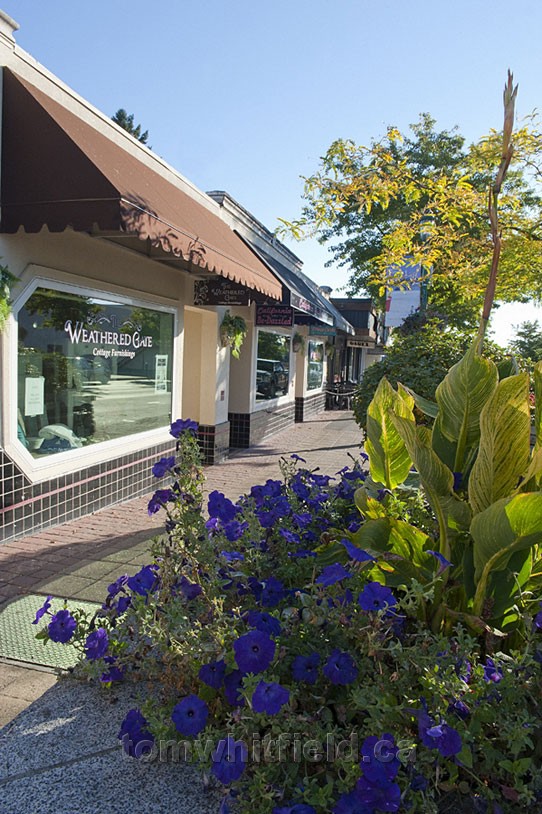 Walking in Qualicum Beach is always a pleasant experience where you're sure to see lots of colour. Here, flowers in a sidewalk garden are planted adjacent to local shops.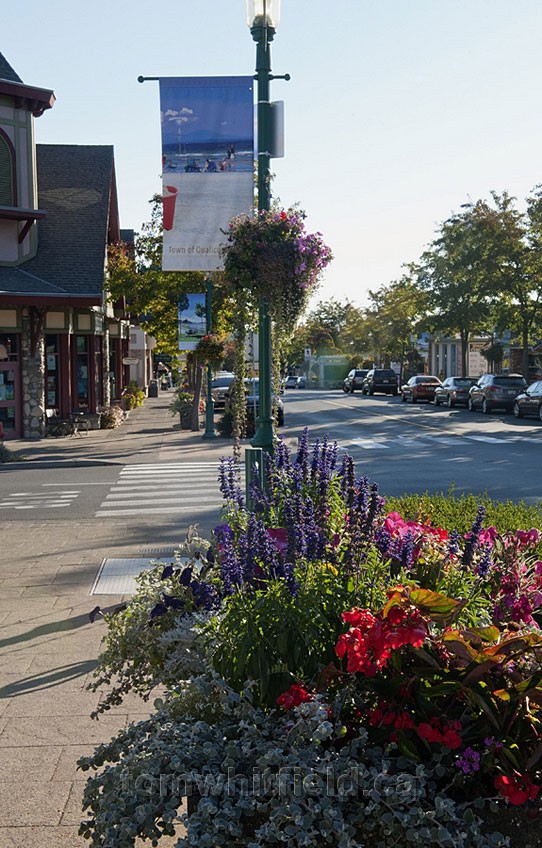 Qualicum Beach downtown has beauty and a small-town feeling.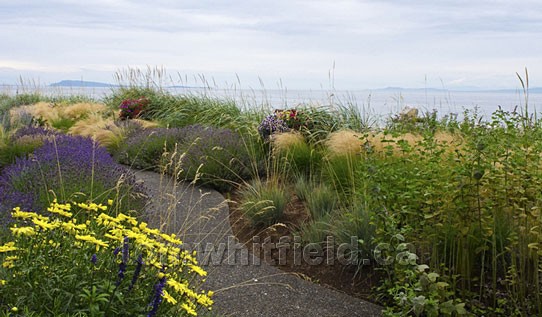 Qualicum Beach waterfront garden bliss.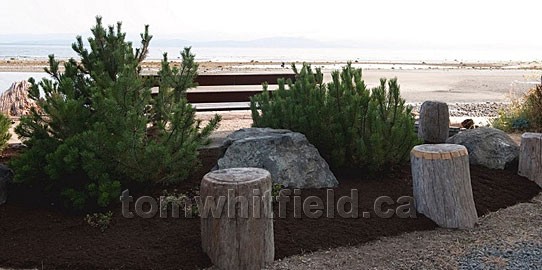 Public access bench on Eaglecrest Beach below The Bluffs.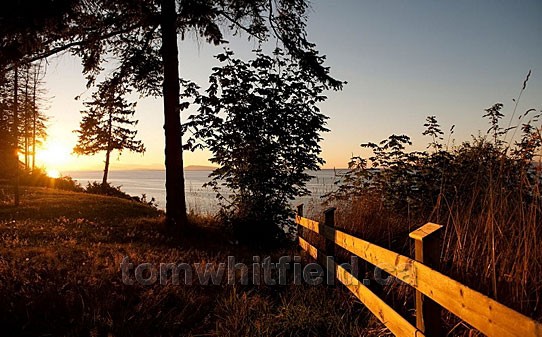 The last rays of sunshine highlight a wooden fence at The Bluffs in Qualicum Beach.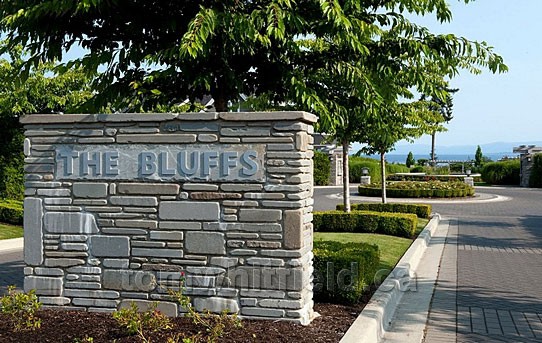 The entrance way to The Bluffs at Qualicum Beach.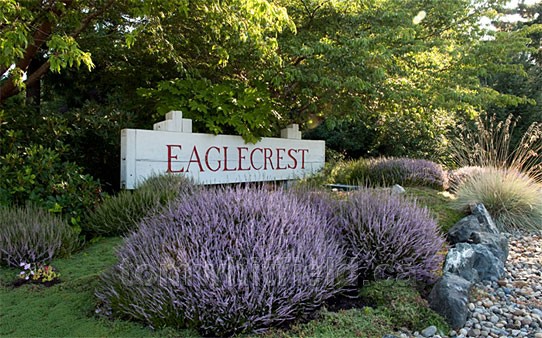 Winter Heather In bloom set against the Eaglecrest sign in Qualicum Beach.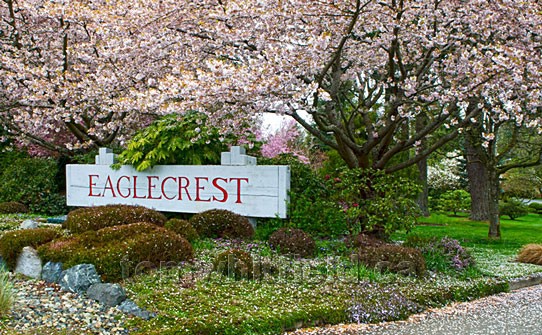 Eaglecrest Cherry blossoms provide an annual display of colour.
A restaurant bylaw requires food to be prepared on-site and delivered to the table, so you won't see the much-loved golden arches here. Instead, you will find local entrepreneurs and unique family-run businesses offering pretty well everything you could need.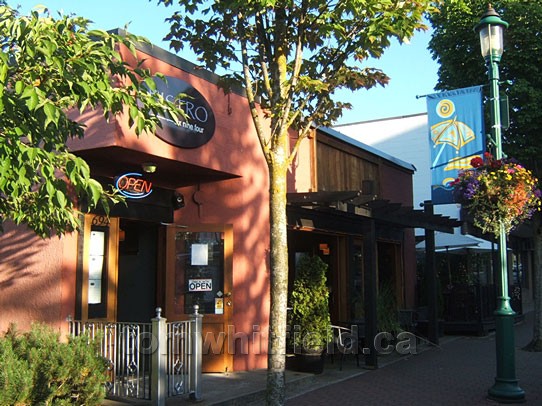 Bistro fine dining in Qualicum Beach.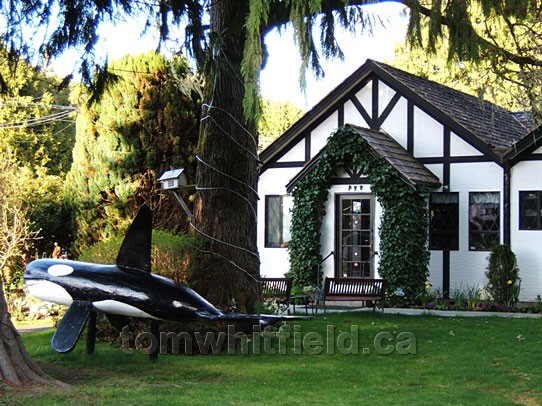 The carved Killer Whale adorns the front entrance to the Fish Tales Cafe in Qualicum Beach.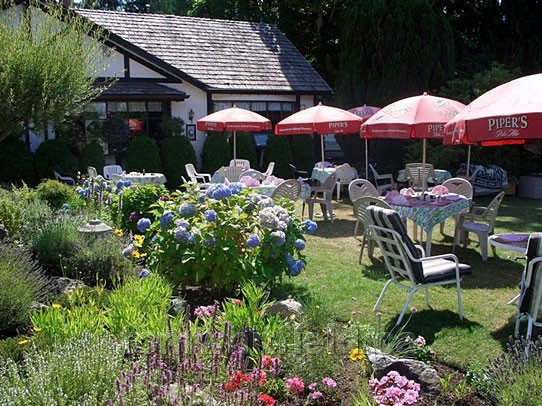 Fish Tales restaurant has plenty of relaxing summer seating in its gardens.
A large indoor pool offers a beautiful setting for your morning laps, aerobics and swimming lessons for all ages. Excellent downhill and cross-county skiing is only 50 minutes away at Mount Washington. We have several options for golf nearby. Locally there are both the Memorial Golf Course and the Pheasant Glen Golf Course. Several others are only a short distance away.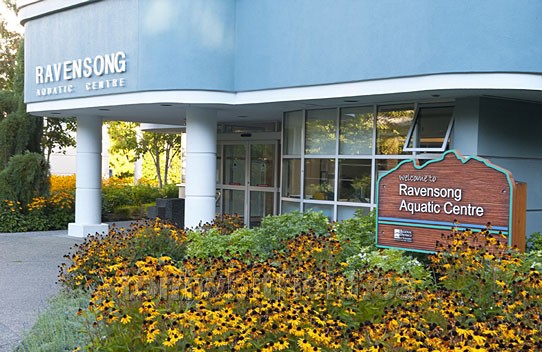 The front entrance to the Ravensong Aquatic Centre.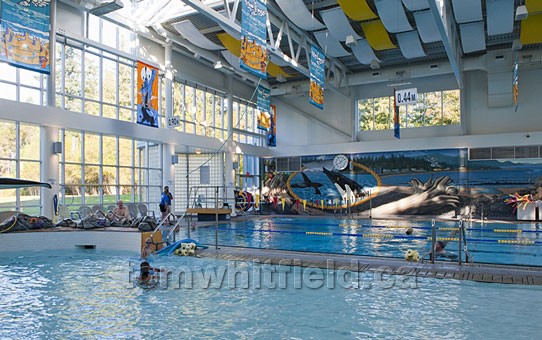 Inside the the Ravensong Aquatic Centre, a large pool is enjoyed by swimmers. A large mural of ocean scenery stands out on the far wall.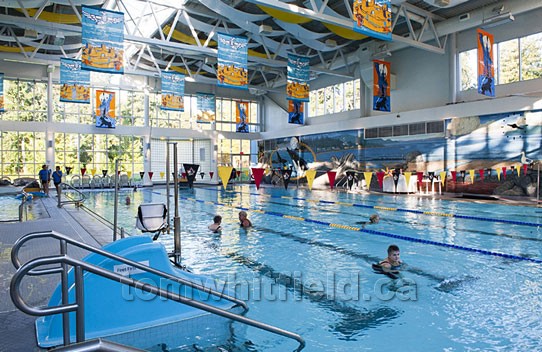 Swimmers enjoying the Ravensong Pool.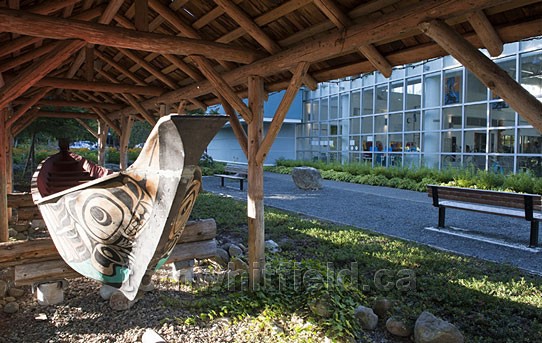 A traditional cedar dugout canoe adjacent to the entrance to Ravensong Pool.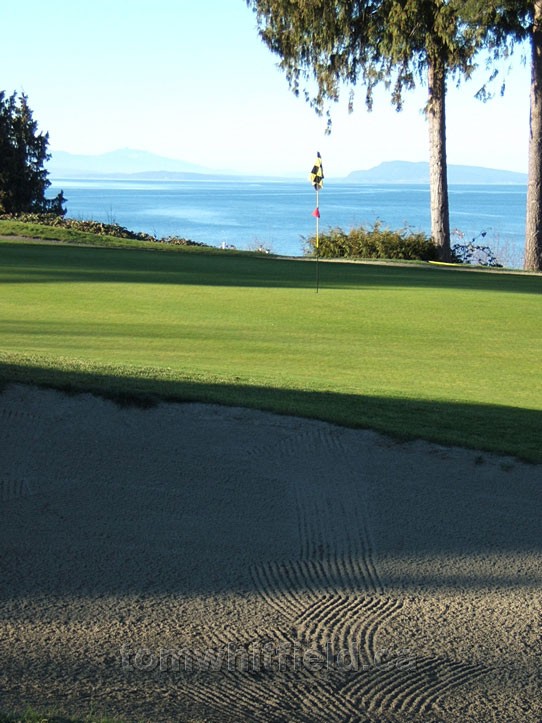 January golfing by the sea in Qualicum Beach.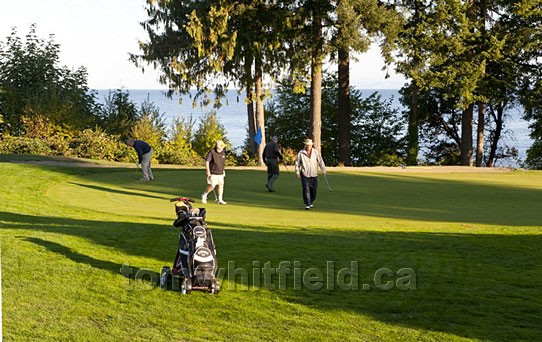 Golfers out enjoying the early October weather at the Qualicum Beach Memorial Golf Course.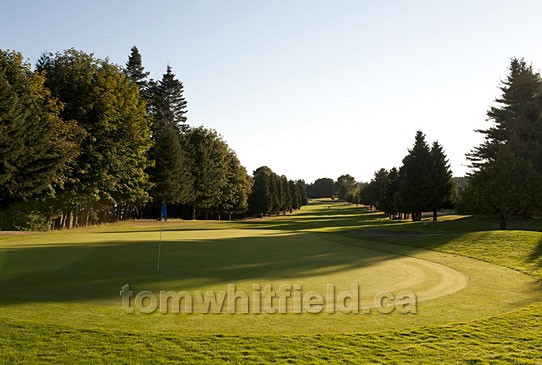 A look down the fairway of the Qualicum Beach Memorial Golf Course on a gorgeous afternoon In October.
There are a variety of cherished green spaces and walking trails in Town. The most notable of which is the 50 acre Heritage Forest with its pockets of impressive 400 year-old Douglas fir trees. This area was saved from development by a small group of dedicated volunteers who raised $1.3M over several years. The Town contributed too, and the lands were purchased for under $2M. The Heritage Forest offers easy mulch trails with interpretive signage and is meant to be an ecological reserve for the public use and enjoyment of wildlife and nature, in perpetuity.
Welcome to The Heritage Forest, an area preserved from development, through local public initiative in Qualicum Beach.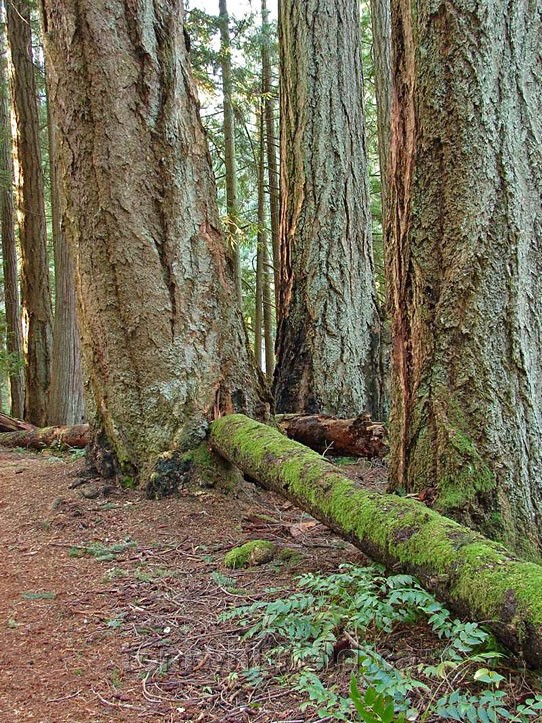 These impressive old growth Douglas firs are about 400 years old.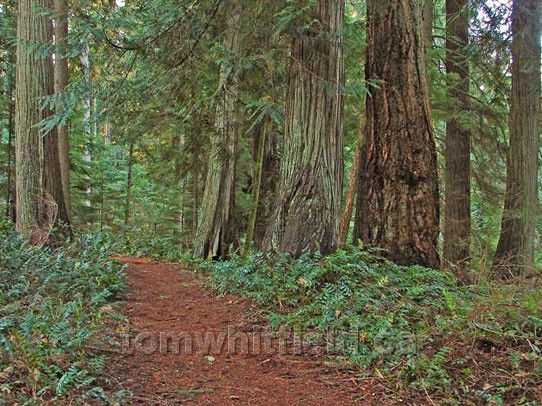 Enjoy easy walking in the Heritage Forest on bark-mulch trails.
The Heritage Forest has benches to relax and appreciate nature and wildlife.
The Loop Trail alongside Beach Creek.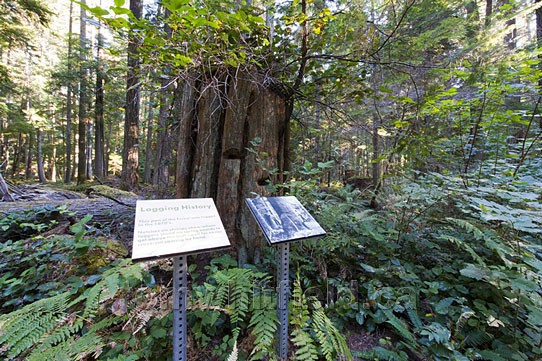 In the Heritage Forest, Logging History interpretive signage provides interesting facts about the forest.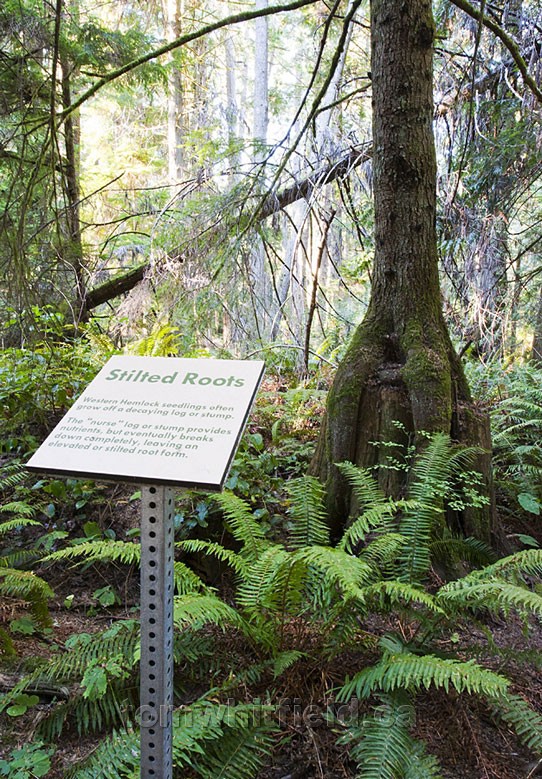 An interpretive sign about the Heritage Forest's ecology: "Stitled Roots – Western Hemlock seedlings often grow off a decaying log or stump. The 'nurse' log or stump provides nutrients, but eventually breaks down completely, leaving an elevated or stitled root form."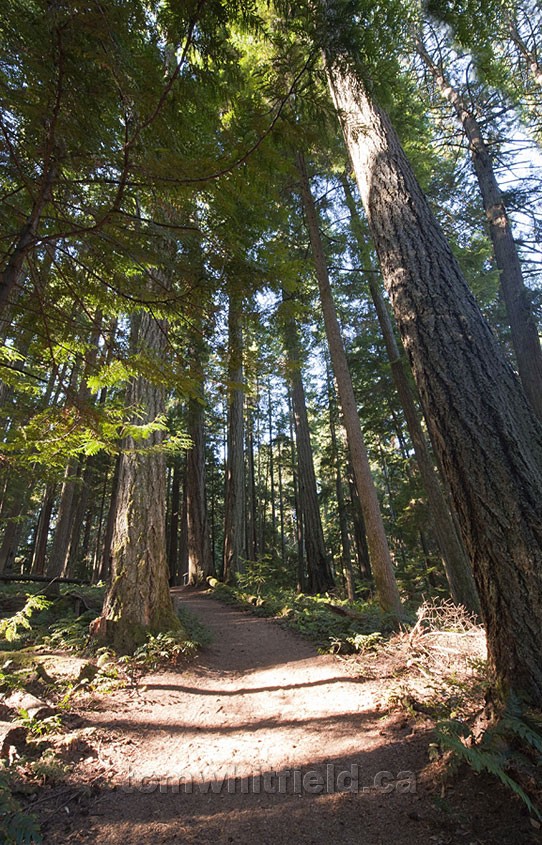 The Heritage Forest contains old growth Douglas fir trails.
Most times of day, you'll find people out enjoying the great walking trails in the Heritage Forest.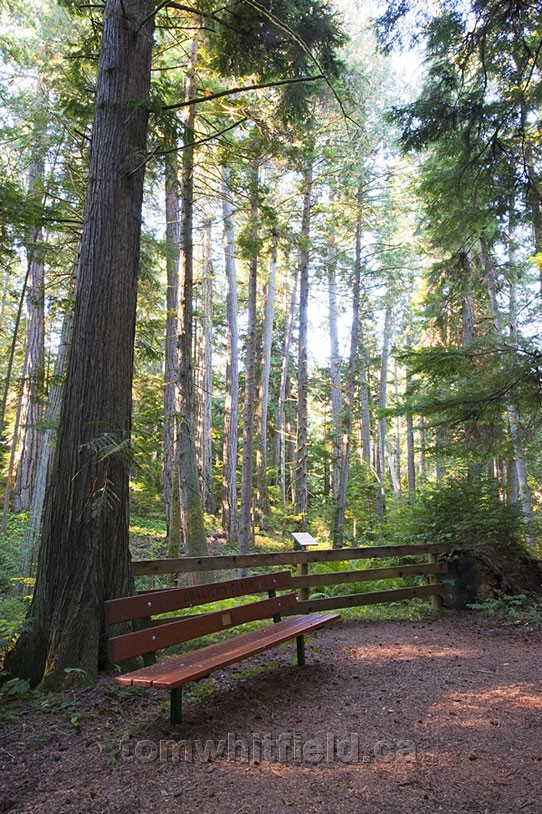 A lone bench, in Qualicum Beach's Heritage Forest, invites one to stop awhile, relax, and appreciate nature.
A Heritage Forest mulch trail makes its way to Crescent East Road in Qualicum Beach.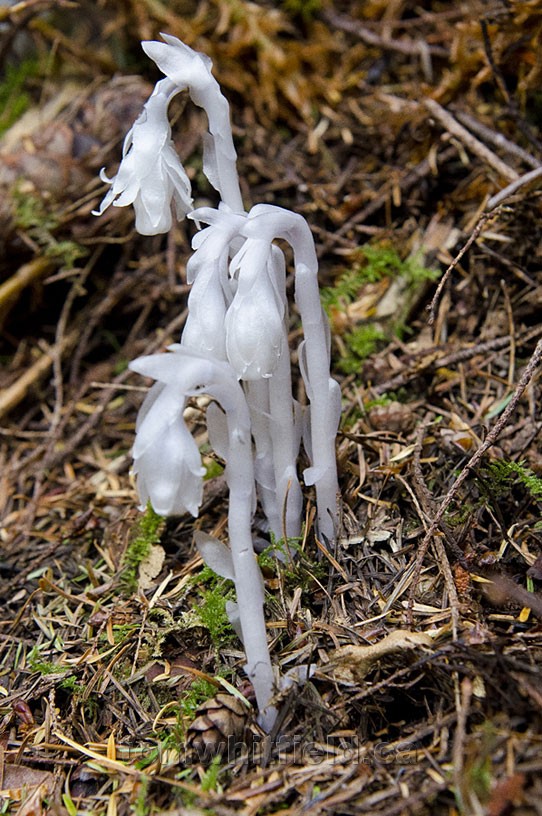 Indian Pipe sprouts from the forest floor in the Heritage Forest.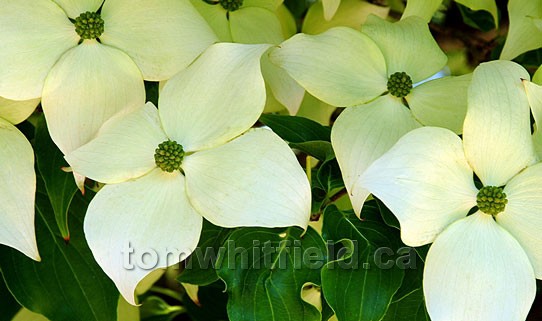 Dogwood flowers from Qualicum Beach.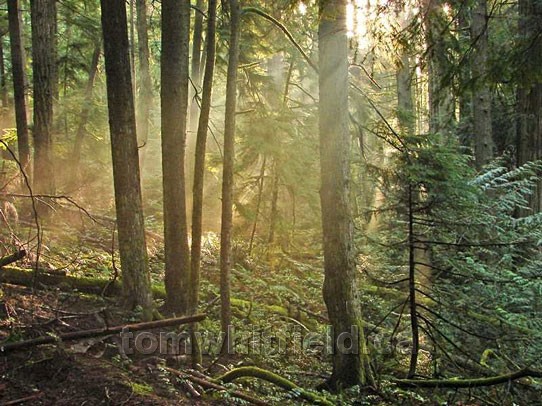 The early morning light shines through the Heritage Forest trees in Qualicum Beach.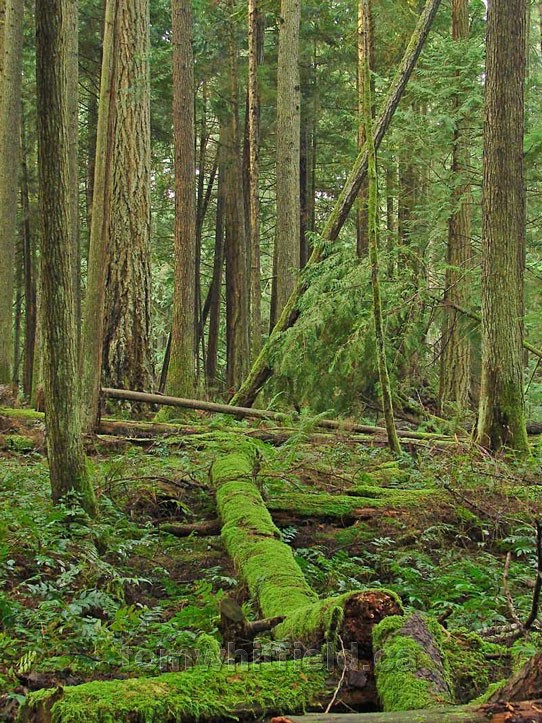 The lush green Coastal Douglas fir forest can be seen throughout the Heritage Forest.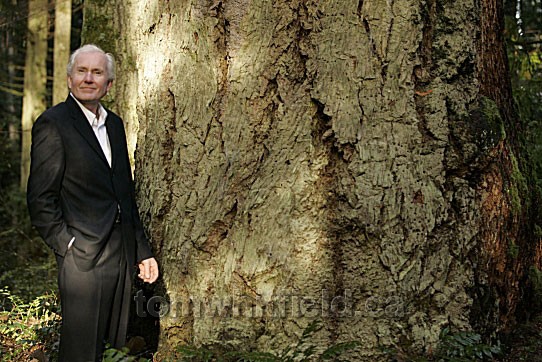 Old growth Coastal Douglas fir trees in the Heritage Forest are about 400 years old.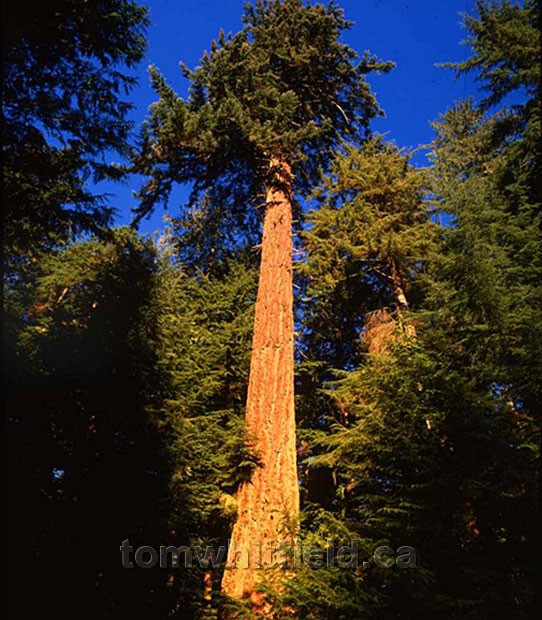 The oldest tree in the Heritage Forest is this approximately 800 year-old Douglas fir tree.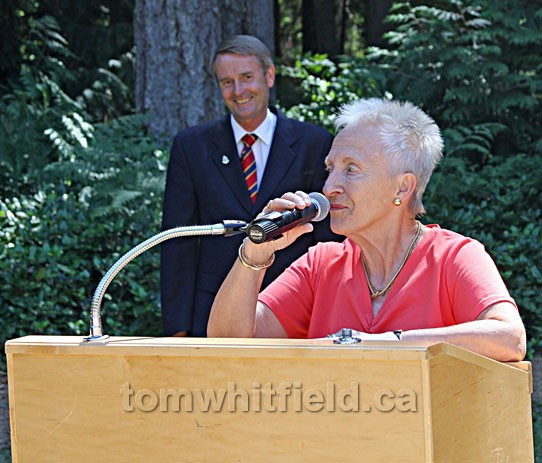 Anne Klees of Qualicum Beach is the woman who started the 'Save The Forest' fund raising campaign.
The official signing of the Conservation Covenant, on July 15, 2008, to preserve the Heritage Forest in perpetuity.
It's a gem. Right in the middle of this small urban Town. Volunteering as an elected Commissioner on the Heritage Forest Committee and serving as President of the Brown Property Preservation Society has been most gratifying to me. It's been an opportunity to serve the community plus put my forest ecology background to good use.
Qualicum Beach has its own spectacular white sand beach with miles of beachcombing opportunities and a stunning white-capped Mount Arrowsmith as a backdrop.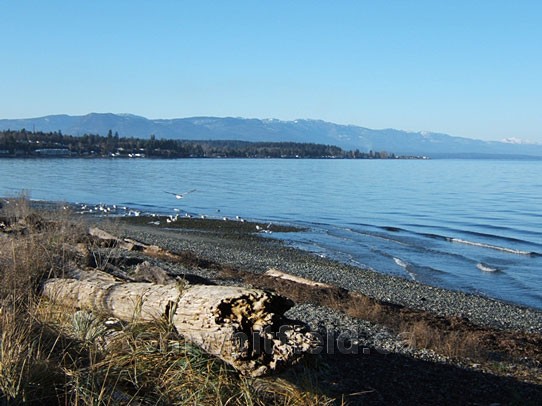 A gorgeous January day, looking out over the ocean at Qualicum Beach.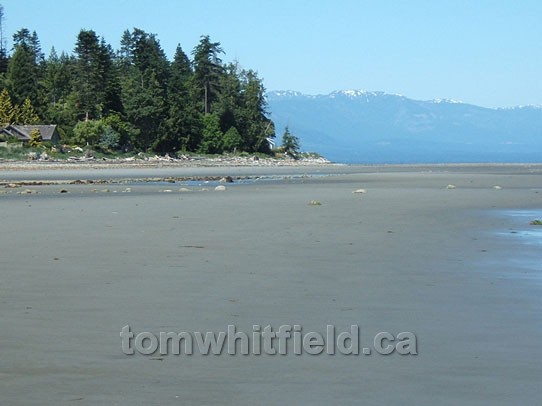 Eaglecrest Beach at low tide.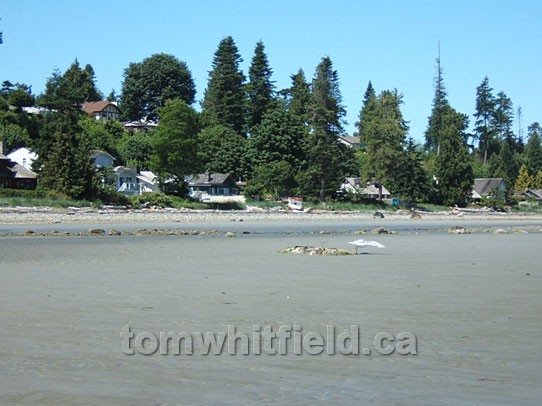 Homes along the beachfront at Eaglecrest Beach in Qualicum Beach.

The view across the ocean from Qualicum Beach to the Coastal Mountains in the distance.
You might not know that there are 4 tides each day. Two lows and two highs. The really low tides in summer are in the afternoon. This is great for summer beach fun. But in winter, the really low daily tides are in the wee hours of the early morning. So you won't see the expansive white sands at their best if visiting here in the winter season while looking for real estate. In summer, ocean swimming is best done about an hour or so after the tide has reached its daily lowest level and is on the rise. The incoming water gets heated up significantly as it cascades over the hot sands. Best time to enjoy a swim in the Pacific.
Each year in Qualicum Beach we celebrate a Brant Festival in February to March. This is a celebration of Nature in general, but more specifically it is to celebrate the annual migration of Brant geese. These stocky birds stop by here to fatten up on herring roe spawn. They fly here from Baja, Mexico before continuing their flight on to Alaskan summer breeding grounds.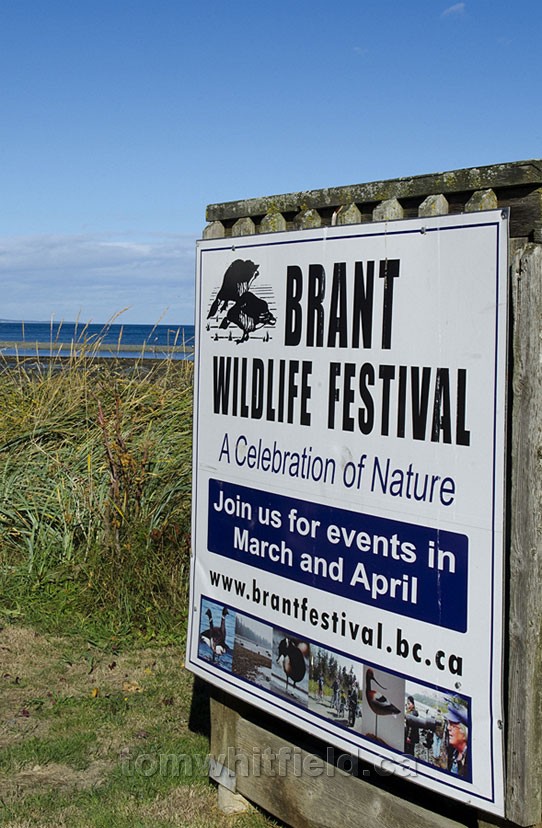 A sign inviting folks to the events in March and April of the annual Brant Wildlife Festival In Qualicum Beach.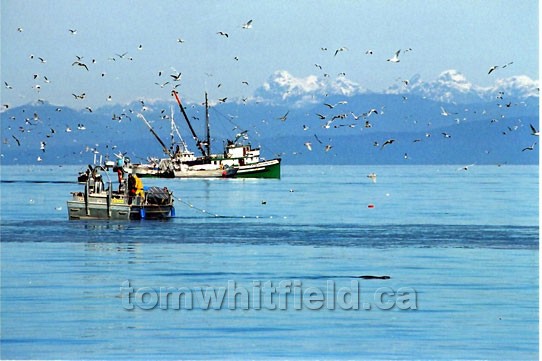 Fishing boats, off Qualicum Beach, engaged in a herring catch with plenty of hovering seagulls.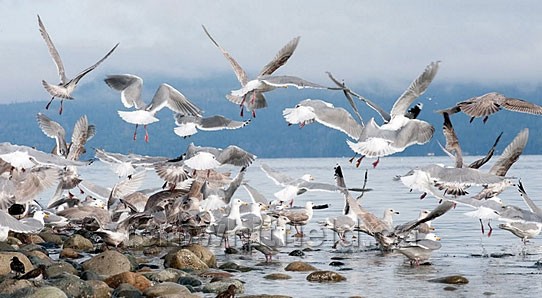 Seagulls at Qualicum Beach, B.C.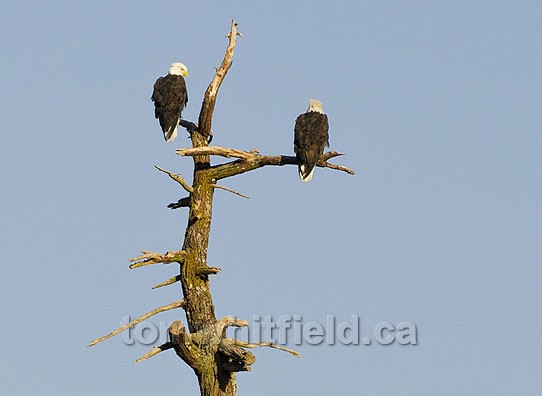 Eagles on the lookout in Qualicum Beach.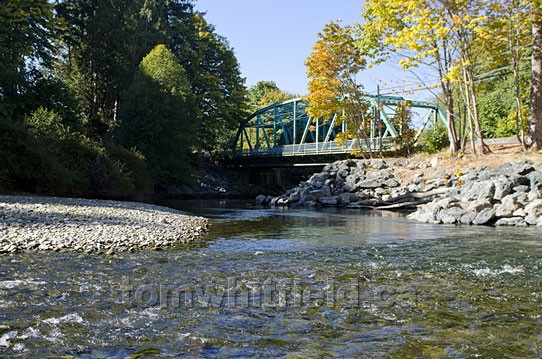 Fall salmon spawning on the Little Qualicum River.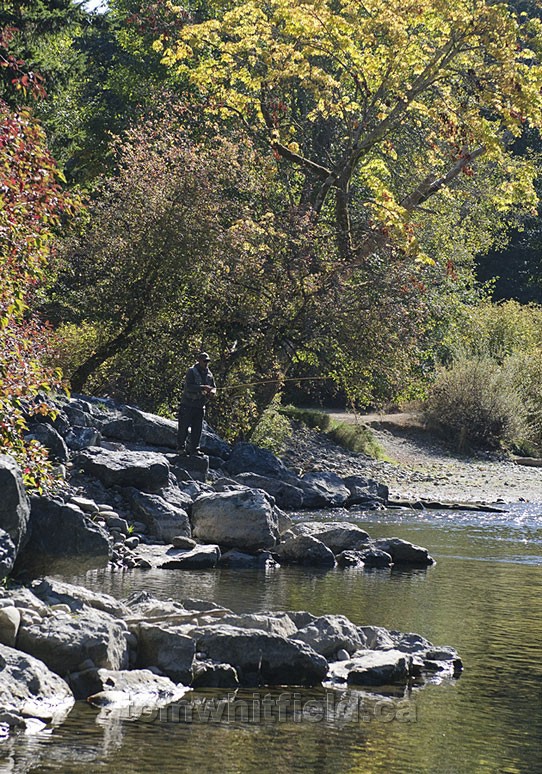 A hopeful fly fisherman tries his skill on the Little Qualicum River.
In 2012, we began a Beach Day celebration on July 21st. What's needed is about 4 hours of low/low tide and expansive sand beach, in the early afternoon on a Saturday or Sunday. Beach Day seems likely to becomes an annual event. I am pleased to say that I am part of that inaugural organizing committee. The focus is on families and youth. Events range from beach seining with a biologist to fossil rubbing with a paleontologist, face-painting, touch pool, skim boarding, fashion show, music, food, and much more.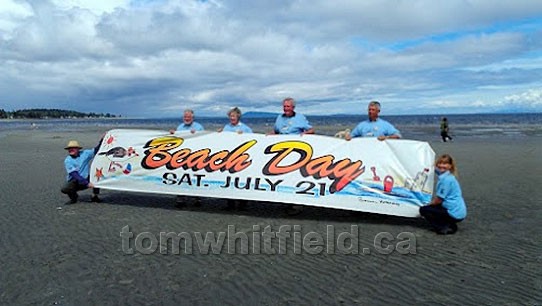 The inaugural Beach Day Event, July 21st, 2012, in Qualicum Beach.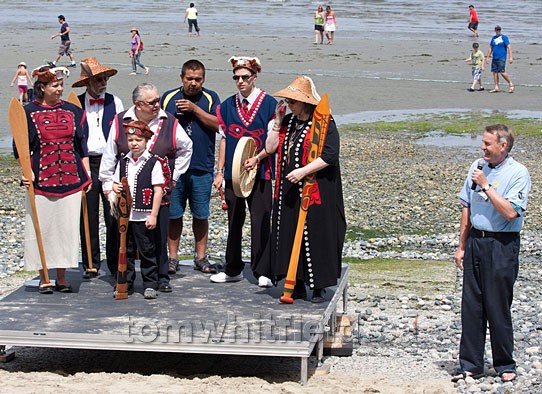 Qualicum First Nation Beach Blessing.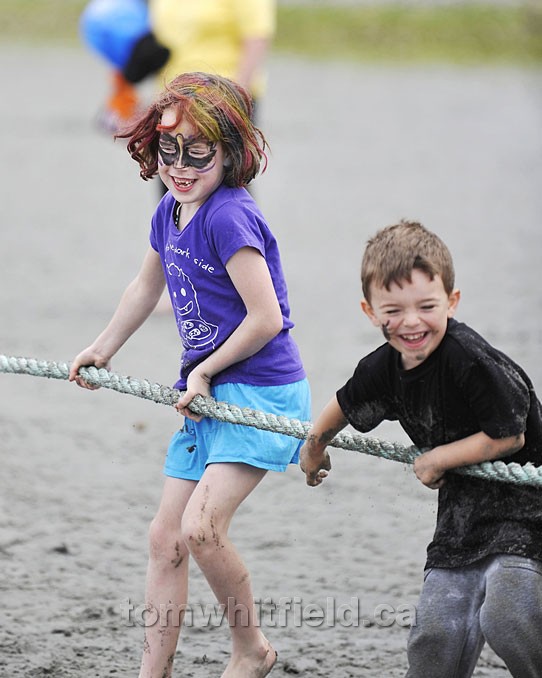 Let the games begin – two young children enjoying tug-o-war at Qualicum Beach.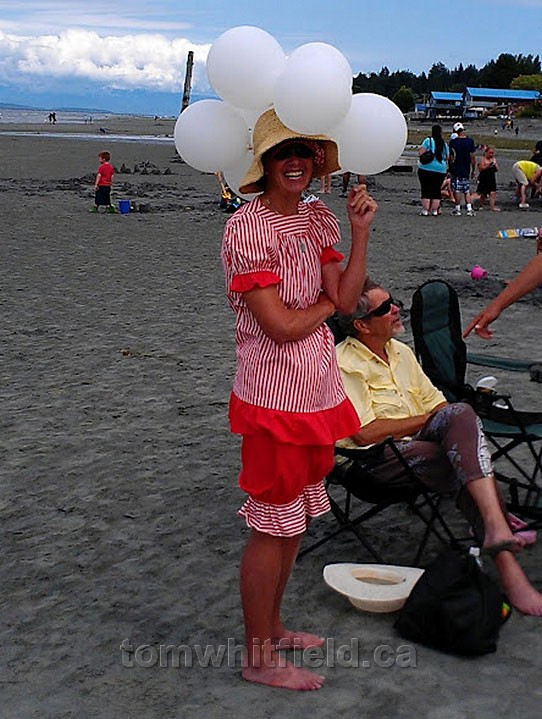 Balloon fun at Qualicum Beach.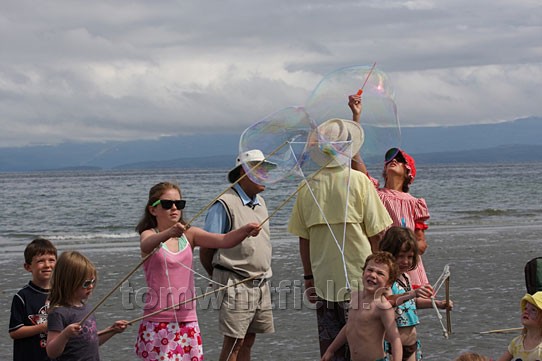 Children having some fun with large bubbles at Qualicum Beach.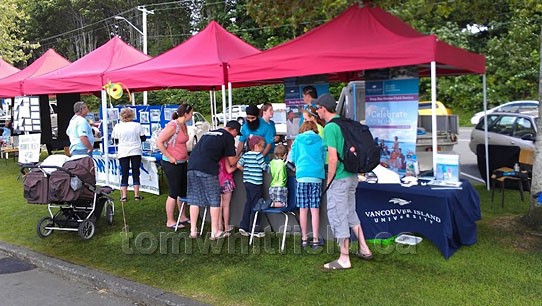 Vancouver Island University engages visitors to Qualicum Beach with a display of its programs.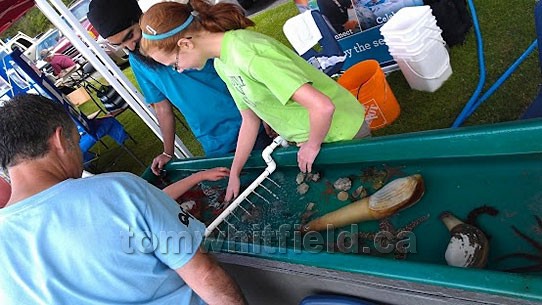 The Vancouver Island University touch pool.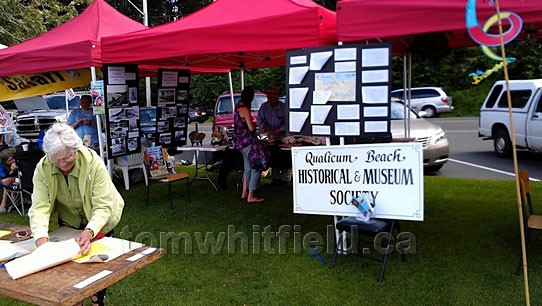 The Qualicum Beach Historical & Museum Society display at Qualicum Beach Day 2012.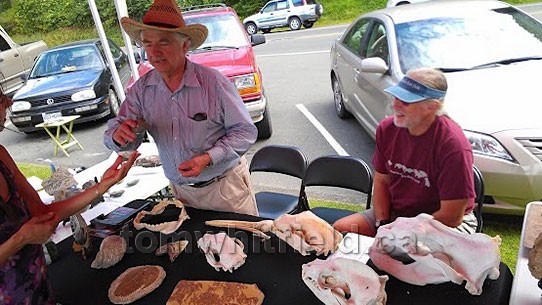 A paleontologist explains fossils to visitors to Qualicum Beach.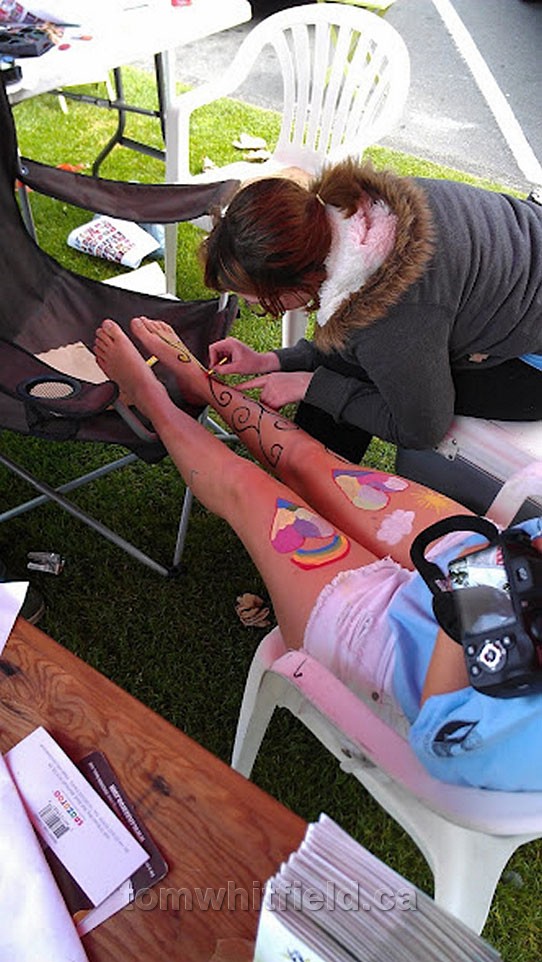 Some colourful body painting at Qualicum Beach.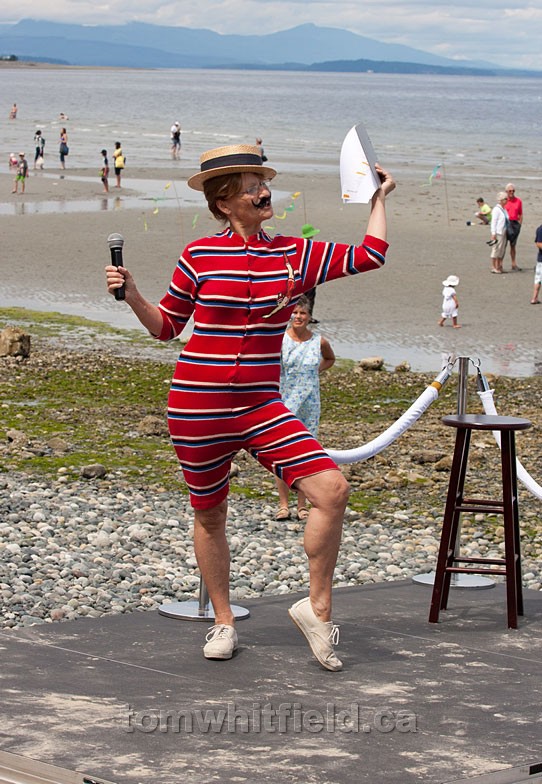 A vintage family fashion show at Qualicum Beach.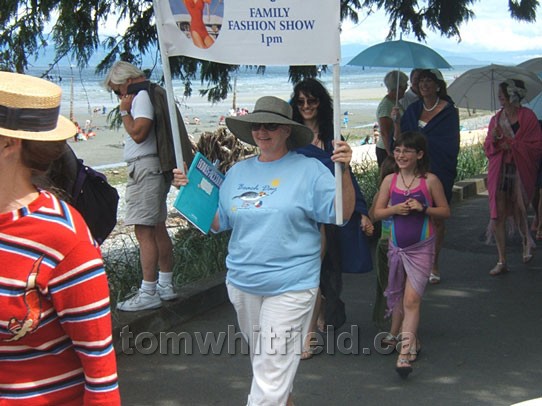 Coming up...the Vintage Family Fashion Show.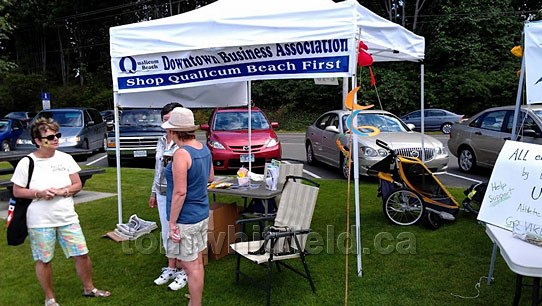 The Qualicum Beach Downtown Business Association display.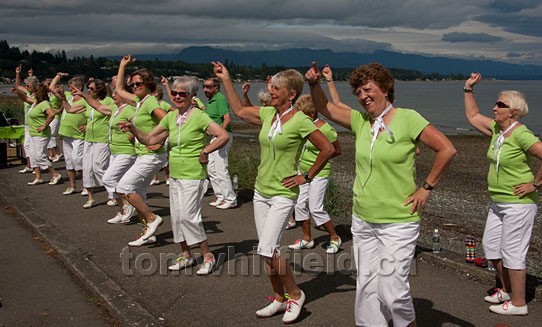 Rainbow Stew Cloggers having fun at Qualicum Beach.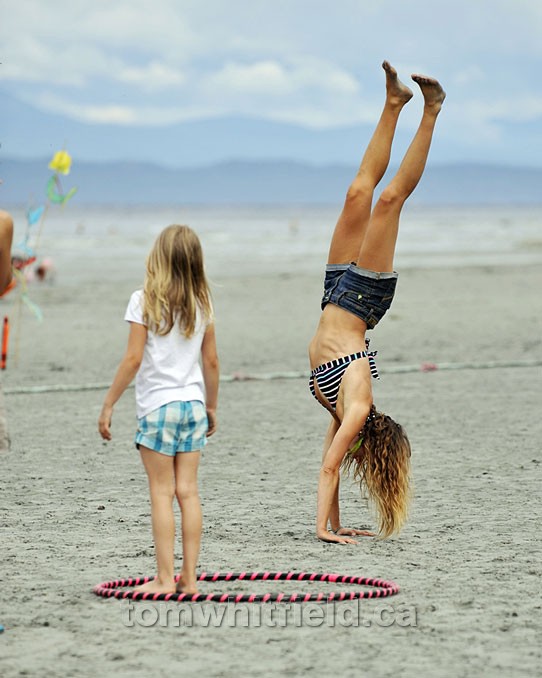 Two girls enjoying Qualicum Beach – one doing a rather good handstand.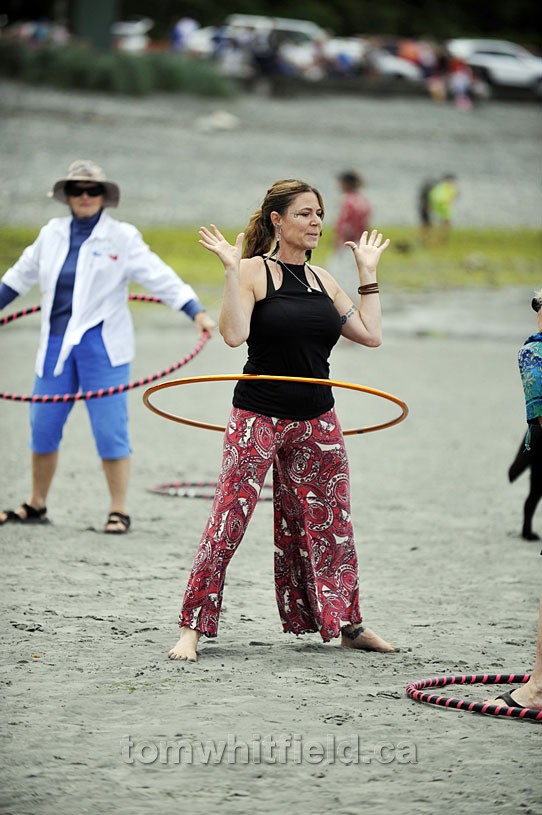 A woman shows off her hula skills at Qualicum Beach.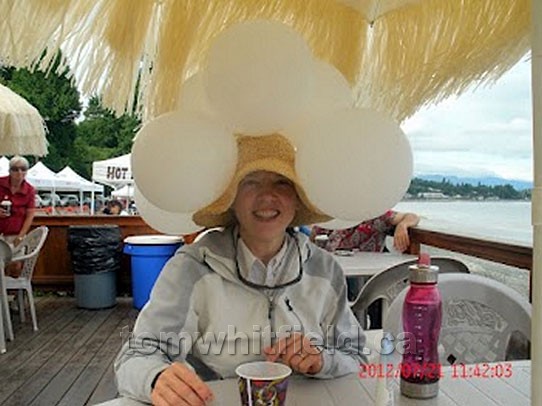 Having a lot of fun with balloons.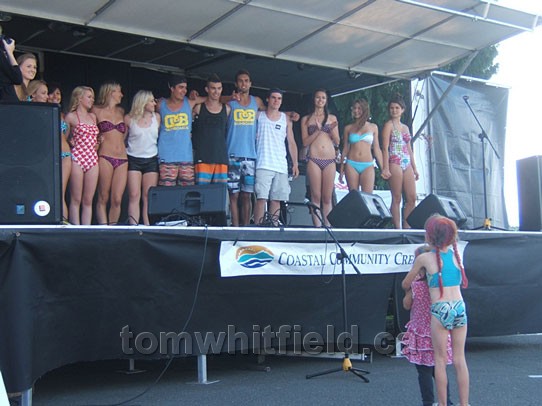 The Qualicum Beach Boom Boom Bikini Fashion Show.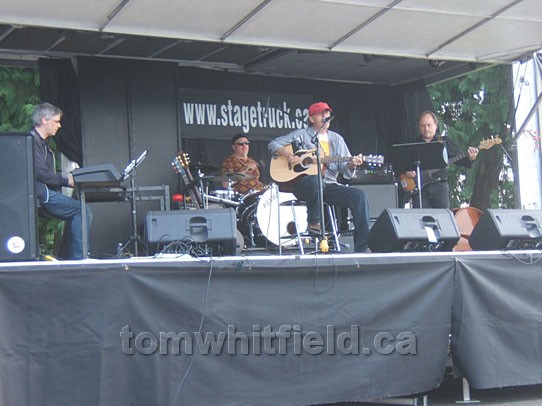 Gerry Barnum and Band performing live at Qualicum Beach.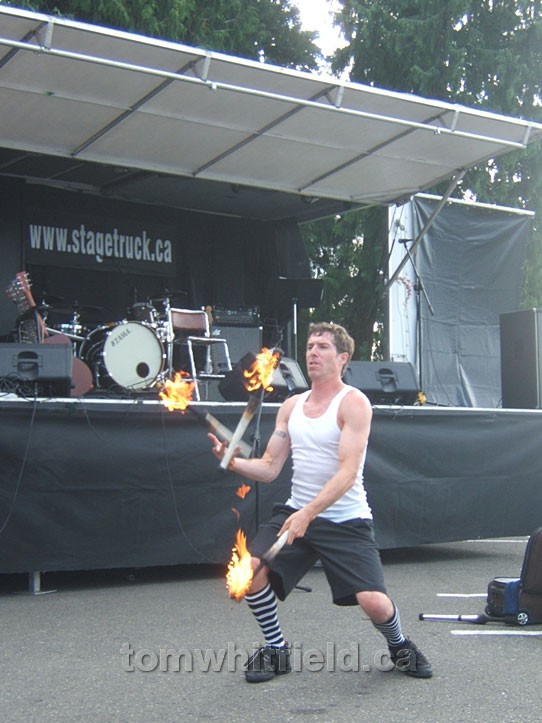 Jake West the Fire Guy performs at Qualicum Beach.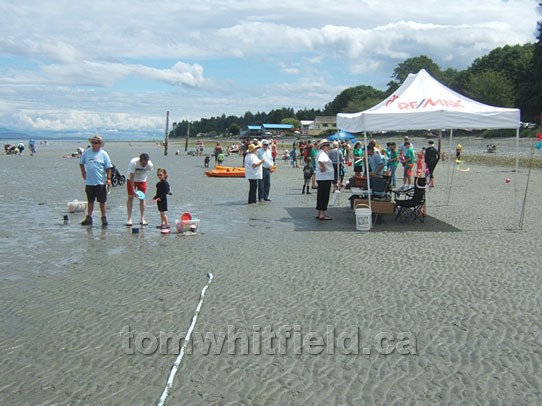 RE/MAX First Realty disc golf at Qualicum Beach.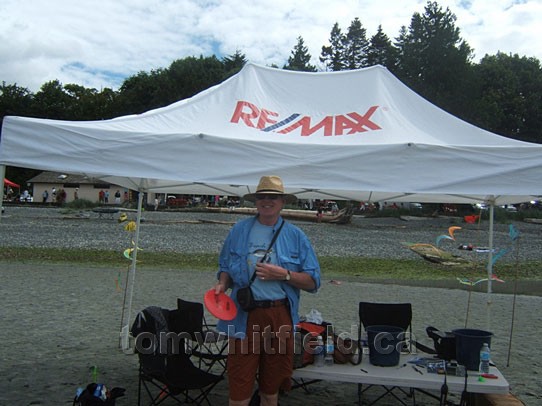 Tom Whitfield was proud to help organize Qualicum Beach Day July 21, 2012 – here, he's about to play disc golf on the beach.
More fun with bubbles at Qualicum Beach Day, July 21, 2012.
Parachute games about to get underway at Qualicum Beach.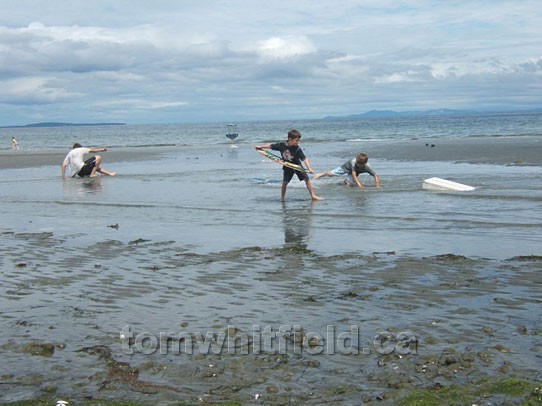 Several children skim boarding at Qualicum Beach.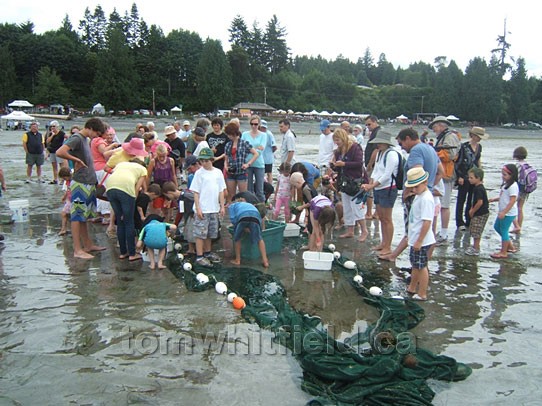 A crowd of people beach seining at Qualicum Beach.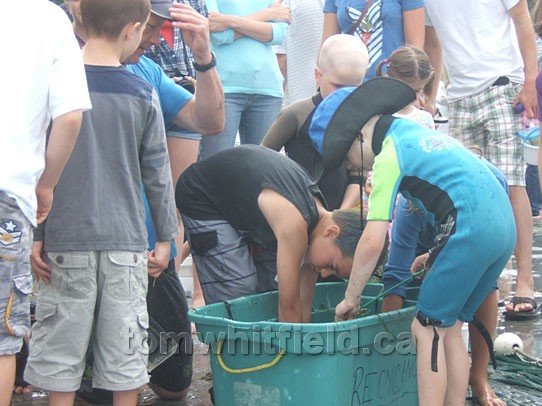 What did we find in the net?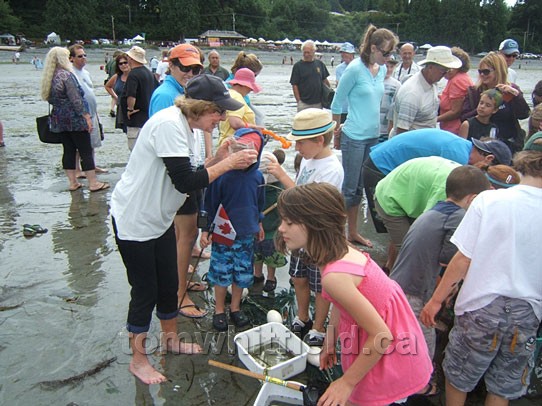 Fran and kids identifying beach critters.
Preparing for tug-o-war at Qualicum Beach Day 2012.
Neil pulling with grit at Qualicum Beach Day 2012.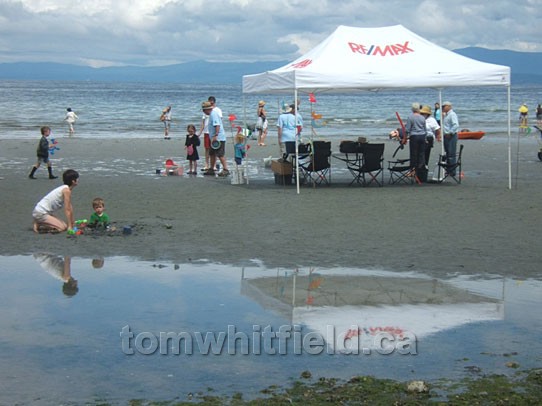 The RE/MAX First Realty disc golf booth.
Getting started by The Beach Hut.
Building sandcastles at Qualicum Beach Day 2012 – look closely and you'll see a lone eagle soaring (upper right).
Beach visitors practising their hula skills.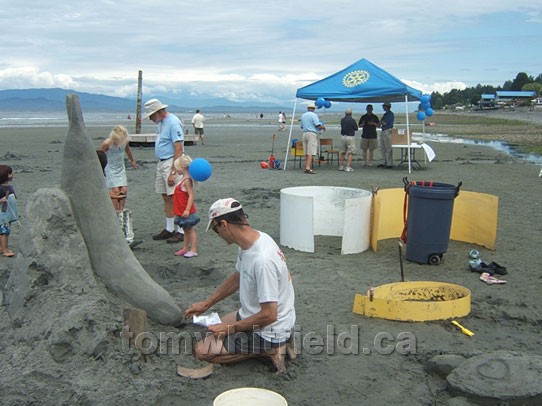 A seal being sculptured out of sand at Qualicum Beach.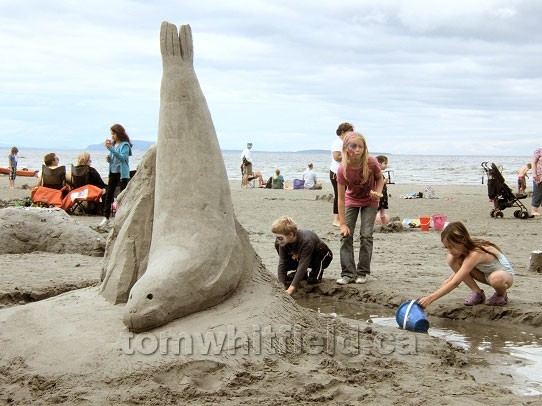 Having good beach summer fun at Qualicum Beach Day.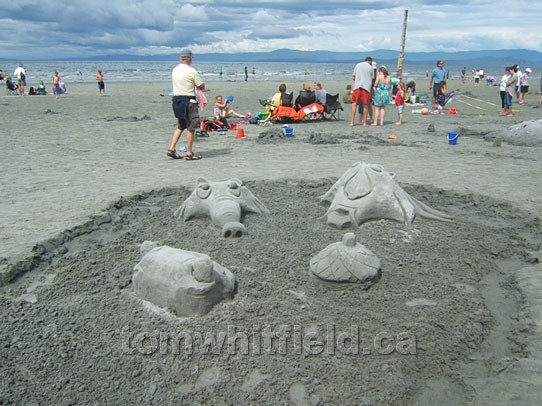 Interesting sand sculptures at Qualicum Beach – can you see the faces?
A big heart sculptured from sand at Qualicum Beach.
A panoramic view of Qualicum Beach at low tide.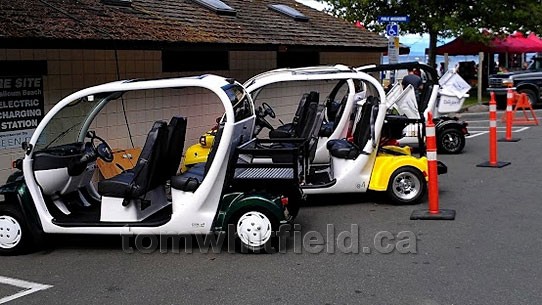 Electric shuttle cars sitting at the Electric Charging Station.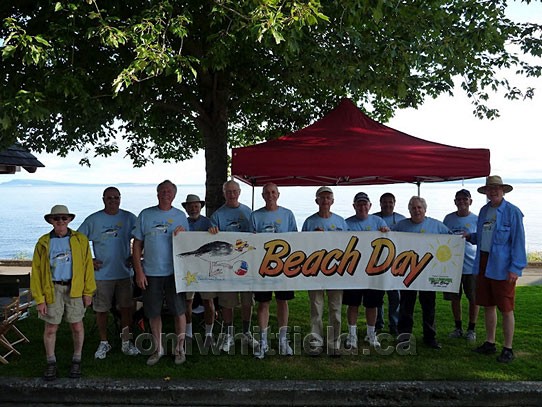 Organizers of Qualicum Beach Day 2012 hold up the event sign – that's me, far right.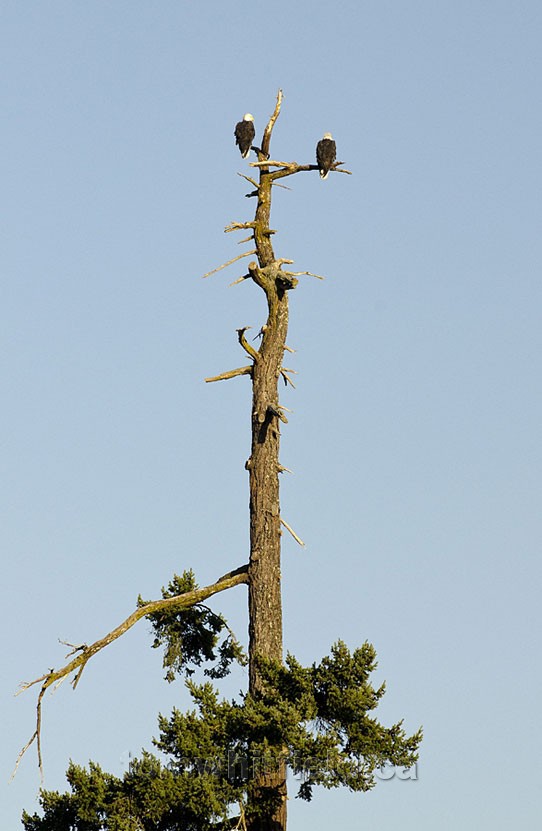 These two bald eagles are perched at the Eagle Tree, one of few remaining old growth fir along the coastline, on the Qualicum Beach waterfront.
Oprah suggests our Classic Car show as one of the best activities for Father's Day.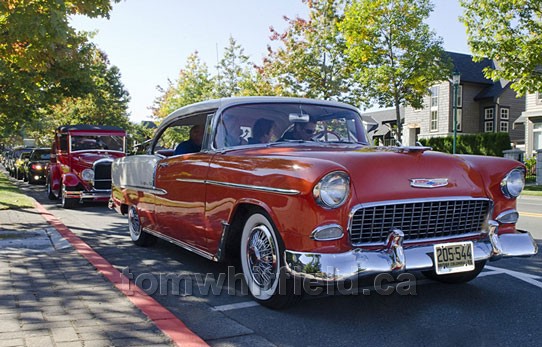 Gary's beloved car leading the procession at Qualicum Beach in October 2012.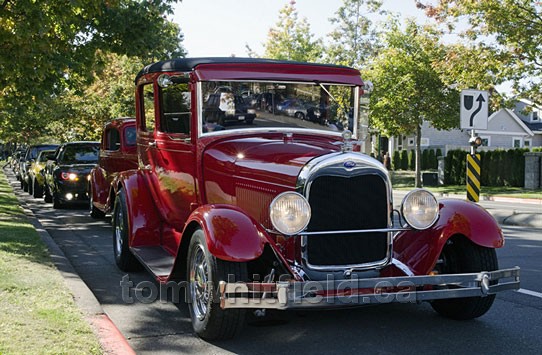 Antique cars abound In the Qualicum area.
Our own Qualicum Beach Airport offers daily flights to Vancouver. The 25 minute flight takes you to Terminal 2, where you board a shuttle over to Terminal 1. There you can make your international connections.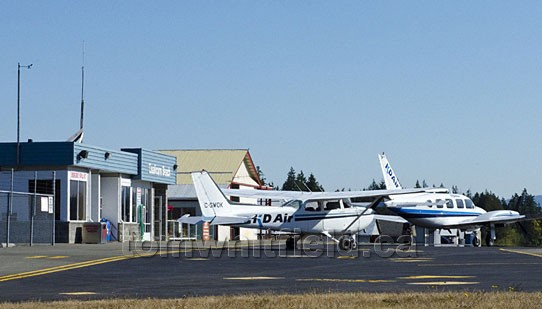 Planes prepare for the daily connections to Vancouver from the Qualicum Beach Airport.
If you are concerned about making new friends, don't worry – just join your local Newcomers Club. They have ongoing gatherings enthusiastically appreciated by all.
Browse My Real Estate Listings
Browse by Community
To see my real estate property listings for sale located in a particular community, click on one of these links:
Browse by Property Style
To see my real estate property listings of a particular style, click on one of these links:
Top of page